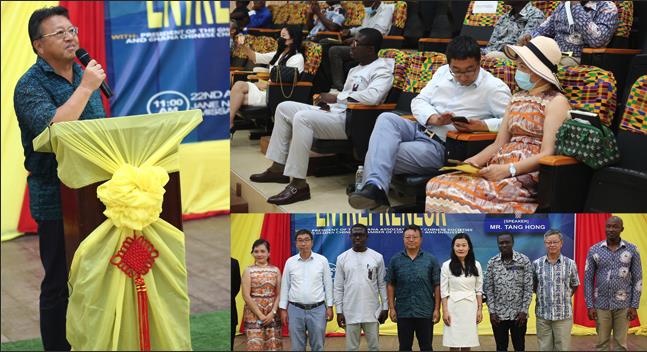 Chairman of the Ghana Association of Chinese Societies and the Ghana Chinese Chamber of Commerce, Mr. Tang Hong, has urged students to always back their dreams with perseverance, patience and confidence to achieve their future goals.
He challenged them to recommit themselves and work assiduously regardless of the problems and challenges they might encounter on the road to success.
He said student entrepreneurs should consider whatever situations they were going through today as temporary with better days ahead.
Mr. Hong, who was speaking to a gathering of students at a public lecture, further observed that there were many opportunities available for Ghanaian students at the Confucius Institute at the University of Cape Coast, UCC.
The lecture, organised by the Confucius Institute at the University of Cape Coast, was on the theme: "How to become a successful entrepreneur."
He encouraged students to make Chinese friends and avail themselves to get job opportunities with Chinese companies in the country.
Mr. Hong also urged the students to be passionate in every sphere of their endeavours.
The Chinese Director of the Confucius Institute, UCC, Prof. OU Yamei, urged student entrepreneurs to persevere and strive for excellence in the pursuit of their business models.
The Ghana Director of the Confucius Institute at UCC, Prof Ishmael Mensah, encouraged students to take entrepreneurship seriously in line with the Vice-Chancellor's vision to make UCC an entrepreneurial university. Prof. Mensah, on behalf of the Confucius Institute presented a citation of honour to Mr. Tang Young for his support to the Institute.