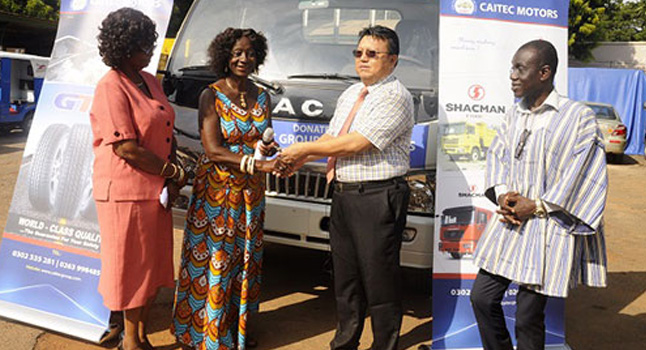 The Ministry of Fisheries and Aquaculture Development has taken delivery of a truck valued at $30,000 for this year's National Best Fisherman.
The truck was donated by Caitec Group of Companies when it joined six other companies to make separate donations to the ministry towards the celebration of this year's National Farmers Day.
The others were Micheal Start Company which donated two outboard motors, seven bundles of fishing nets, five boxes of fishing floats and five coils of ropes valued at GH¢28,800 and GH¢2,000 cash.
Silver Plater also donated items worth GH¢1,500.
Pioneer Food Cannery Limited presented 50 boxes of canned tuna and an amount of GH¢7,500.
Fidelity Bank presented a cheque for GH¢12,000, Deedore Company Limited also handed over a cheque for GH¢2,000, while Qualiplast Company presented items valued at GH¢15,000.
The 2016 National Farmers Day celebration is the 32nd edition and is scheduled to come off tomorrow at Kintampo in the Brong-Ahafo Region.
The week-long celebration, which started with an open forum and a tour of the host region, is on the theme: ''Agriculture: A business response to economic growth.''
The day has been set aside to honour farmers and fishermen who provide food for the nation, raw materials for industries and also earn foreign exchange for the country.
Gratitude
Receiving the items, the Minister of Fisheries and Aquaculture Development, Ms Sherry Ayittey, expressed the government's appreciation to the private sector for its support to the farmers and fishermen.
She said the nominees for this year's event were already in Kintampo and preparations were complete for a successful event.
The Chairman of the Caitic Group, Tang Hong, said his company, which deals in imported fishing nets and manufacture of fishing ropes, made the donation in line with its corporate social responsibility.
He stated that for the past 15 years, the Chinese company had consistently supported the National Farmers Day event.