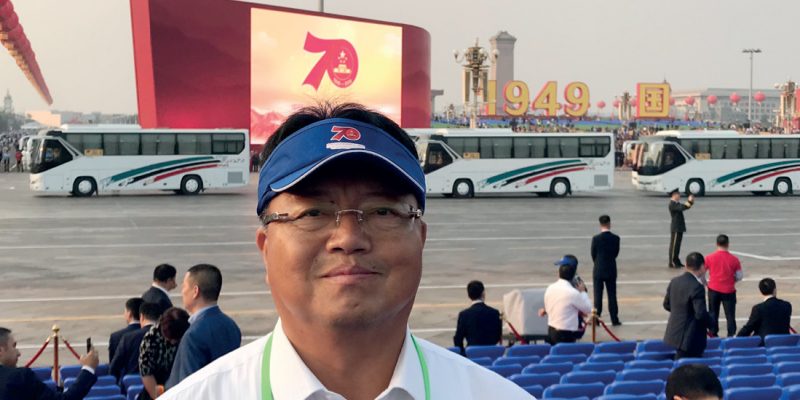 Interview with Mr Tang Hong, a leading entrepreneur in the hotel industry
The owner of Tang Palace Hotel, Mr Tang Hong, talked to Top Guide about his experience of setting up successful businesses in Ghana. Mr Tang arrived in Ghana in 1995 with a Chinese company and started his own business in 1997. He saw opportunities in the country due to political stability, safety and abundant resources, both in terms of natural resources and human capital. First Mr Tang opened a trading company, then an auto company and finally, entered the hospitality industry with Tang Palace Hotel. He is also the chairman of the Ghana Association of Chinese Societies.
How is business at Tang Palace Hotel and what are your expectations for 2020?
The hotel is doing well. If you compare this year with 2018, business is picking up. Occupancy has gone up 5% since last year. Ghana is holding presidential elections next year and Accra will receive a lot of visitors.
Also, with Ghana joining the African Continental Free Trade Area, the country will host delegations whose members are likely to stay in top hotels. This will bring occupancy numbers up. We specialise in accommodation but conferences and meetings represent 10 to 15% of our business.
You told Top Guide last year that you bought land in front of Tang Palace Hotel to build a new luxury hotel. How is this project evolving?
I have bought a site across the street already and I am negotiating a second piece of land next to it. I was planning to build a second hotel but if the acquisition does not go through, we will work on an extension to Tang Palace Hotel. The new space will feature conference rooms accommodating 400 to 500 guests, and it will have an underground car park and an entertainment centre with a casino and a nightclub.
You told us last year that you want to set up 20 hotels in Africa. Why 20 – is it your lucky number? – and where do you plan to build them?
It is not my lucky number but building 20 hotels is my dream. I would like to extend the hotel's brand across the continent but there are a lot of financial issues to take into consideration. We have to go step by step. Economic activity in Africa is slow at the moment. Interbank borrowing rates are going down, which means the economy is not strong. I think we can set up good projects in Ghana first before looking at other countries. As the saying goes, a bird in the hand is worth two in the bush.
What is your next step in Ghana?
I will build a hotel in Takoradi. I have the land already and the architect's plan. It will have 40 to 50 rooms, while the Accra Tang Palace Hotel totals 116 rooms, a number that is set to grow by at least 100 in the next few years. Takoradi relies only on the oil and mining industries and doesn't need as many rooms as Accra. The return on investment will be lower than it is in the capital.
Where do you see opportunities for foreign investors in Ghana in 2020?
Ghana is a good country to invest in. The political situation is stable, the population is about 30 million people, and resources are abundant. There is gold, bauxite, manganese, iron ore, cocoa, more oil is going to be explored and this is creating more revenues for the country. It is one of the best places to invest in. Th e Ghana Investment Promotion Centre (GIPC) gives good service to potential foreign investors. People abide by the law. The government has launched the One District, One Factory programme to establish a factory in each of Ghana's 260 districts. The goal is to create jobs and to add value to raw materials locally before exporting them. This is a good policy for investors. In addition to that, Ghana's currency is stable.
Opportunities can be found anywhere, in the mining, the industrial or the hospitality sector… The manufacturing sector is attractive, as you don't need highly technological investments, and you can create simple products. Ghana has raw materials. Electricity is a bit expensive but supply is sufficient; and it is easy to open a factory.
What areas are Chinese investors focusing on?
As the president of the Ghana-China Association, I observe that the Chinese invest in all sectors but at present they are targeting factories. Manufacturers ship outdated plants from China into Ghana, because they find cheaper labour in Africa. This is positive because products will be made locally and imports will therefore decrease. Currently, the Chinese own ceramic and diaper factories, refineries, power plants. They make chemicals for the agricultural sector.
Over 20 years in Ghana, you built a trading company, an auto company and a luxury hotel. What is your secret for success? What does it take to be successful in Ghana?
Most of all, you need to be patient and have self-discipline. You must first make money before spending it. Some people do not follow this rule. They are wrong!
I came to Ghana early on so I was fortunate enough to make big business with big names. My auto company represents GT Tyres and Shacman. You must be passionate about your business and love the people you work with. You have to be loyal and honest with all your partners. Your commercial reputation is too important to compromise. You must keep your promises.
You are the chairman of the Ghana Association of Chinese Societies. What is its role?
It was founded in 1994 to unite all Chinese people in Ghana, to help them solve their problems, whether commercial, diplomatic or medical. It provides guidance and encourages them to comply with the rules
and know their legal rights. The goal is to promote good relationships between Ghana and China. For example, more and more Ghanaians go to China to study.
OF COURSE, GHANA'S GDP GROWTH, BETWEEN 7% AND 8%, IS BOUND TO BOOST INVESTORS' CONFIDENCE.
What is the trend for Chinese private and government investments in 2019 and 2020?
Private investment will go very high because there are many opportunities and Chinese investors are bold. They just come to set up one business first and then they look for new opportunities. Government investments involve much larger amounts, which entails a lengthier decision time. The Chinese government has invested US$1 billion in power generation in Ghana. Chinese state-owned company Africa World Airline and the construction company Walong are doing very well here.
What is the role of the China-Africa fund?
The fund invests on behalf of the Chinese government. They also help finance private Chinese companies setting up businesses in Ghana. They hold participations in the extraction of manganese and bauxite. Ghanaians have some misconceptions about China bringing money and giving out loans. A businessman must meet certain conditions. Nothing comes for free, even though rules used to be looser in the past. This is the message carried by the China- Ghana Society. People used to be able to borrow money without giving guarantees. This is no longer the case because we are witnessing a general economic slowdown.
Projects have to be studied carefully and to make sure they are realistic and achievable. Ghana offers very good opportunities, in the form of PPPs among other things.
Ghana is expected to be one the world's fastest growing economies in 2019. Does that make Ghana more attractive than other African countries for investors?
Of course, Ghana's GDP growth, between 7% and 8%, is bound to boost investors' confidence. Most importantly, policies in Ghana are very favourable. With the newly signed African Continental Free Trade Area (AfCFTA) agreement, Ghana, already a member of ECOWAS, will be able to export goods to other African nations duty-free. This makes Ghana a destination of choice for investors.